Introducing are latest software package, Police Report.
Having to fill out forms everyday is lengthy, time consuming, and an all out chore. With Police report from Systèmes Sarotech Inc. we have simplified and streamlined the whole process  just enter the required information into the area's provided take your needed pictures from within are program and hit the Send button it's that easy ..!
Police report will organize and place everything in the right place, generate the required forms pre-filled out with your information… Then transfer it all to your email software ready to be sent out..!
All you need to do is setup your Company information and enter the email address assigned to your company by the police department. Are program takes care of all the rest.
Overview
Flexibility: Our software is extremely versatile whether you use Microsoft Outlook, Thunderbird etc..
Fast: Efficient and sharp in design, Police Report is powered by a customized commercial database engine, featuring lightning quick access to your Data, Pictures and transaction files, either in a standalone embedded system or over a client/server network.
User Friendly: Instead of spending countless hours teaching various keystrokes and what various terms mean to your employees, they (and certainly you) will be glad to know that finishing off a report is quick & easy. Featuring a clean cut design and an effective, highly efficient user interface, there's no need to have a manual nearby to use the software. Just point and click and you've got yourself a report.
Screenshots
These are various Screenshots of Sarotech Police Report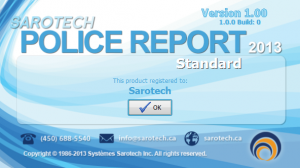 Sarotech Police report Welcome Screen
Pricing
Pricing for Sarotech Police Report