Sarotech Point of Sale v5 (or SPOS5) is a fully-featured point of sale application for retailers and jewellers. Please take a look at our information page for more details. Below are a few screenshots of the program. Clicking on a thumbnail will give you a larger view of the image.
Opening Screen SPOSv5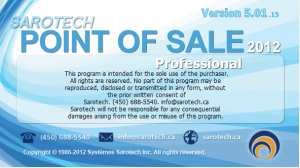 Main Window
The first screen that greets you when running SPOS5 Deluxe.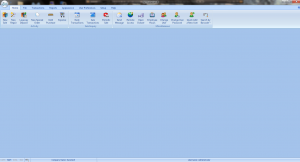 Item File (Inventory)
This is the backbone of your entire store's inventory. As you can see, any item or service can be modified to your liking.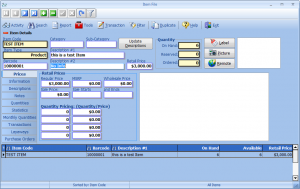 Sales Program
The SPOS Sale program is an entirely different application focusing on making nothing but sales. This results in your salespeople only learning one single application with a limited set of restrictions in place. All they can do in this program is make a sale and nothing more.

Client File
Managing your clients has never been simpler. Create a mailing list!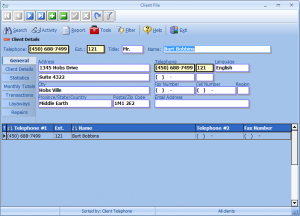 Supplier File
This is the screen where you manage your suppliers list.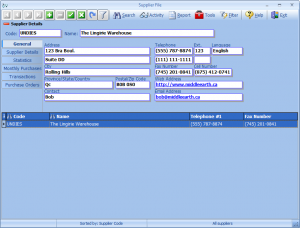 Category File
This is where you can manage your item's categories. It is totally optional.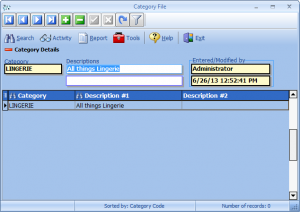 Description File
Adding, deleting and modifying descriptions has never been easier. You can set up to 12 different types of descriptions per category to facilitate addition of new items. That means less typing for you when you enter your items in inventory for the first time, as these descriptions will automatically fill-in when selecting a category.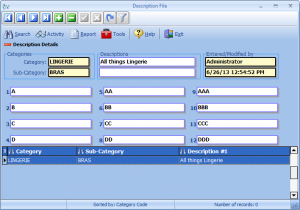 Daily Sale File and Totals
You can view your daily sales through this intuitive screen. You can also print your daily sale totals to your receipt printer with ease.
Repair File
See what needs to be repaired.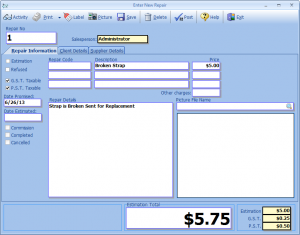 Physical Inventory
If you do physical inventory checks often, this screen will aid you tremendously especially if you use a Portable Data Terminal to scan your items into the device's memory. You can dump the collected data into SPOS and let the program let you know what's missing in your inventory.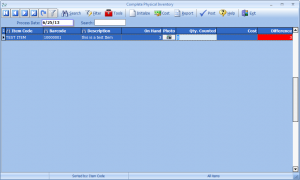 Purchase Orders
Simple screen to make large inventory item purchases. Features a Quick Item Addition screen to add last-minute items which are not in inventory.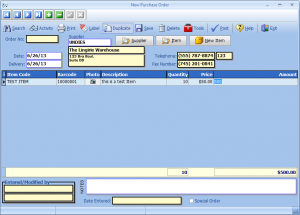 Item Label Formats
Designing and printing your labels are easy thanks to SPOS' label designing system.
Company Profile and Store Locations
This is where you set your store's information and location details. If you have multiple stores, you can let SPOS know about them through this screen.
System Settings
Configure SPOS' main settings through here, such as item and category code lengths, item/supplier/client defaults, receipt messages and other various options.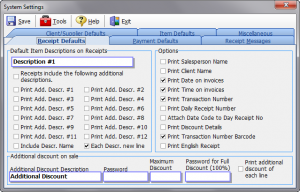 User Profiles
You can add, delete and modify users through this screen. Also, you can restrict what users can and cannot do.